Twentieth person arrested over Gloucester disorder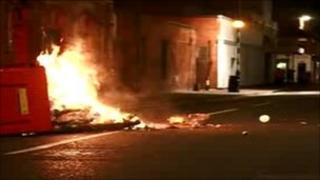 A 20th person has been arrested in connection with disturbances in Gloucester on Tuesday night, police have said.
The 26-year-old local man was arrested on suspicion of violent disorder and has been released on police bail.
Gloucestershire Police said a 23-year-old man arrested on Saturday morning had been released without charge.
So far, three people have been charged and one man cautioned, the force spokesman said.
The others have been released on police bail, pending further inquiries.
The disorder saw police officers come under attack from youths throwing rocks and bottles in the city centre.
Fire crews were also involved in several incidents, including tackling a fire in a derelict building previously used by Gloucestershire College of Art and Technology.
'Can't cope'
Speaking on BBC Radio Gloucestershire on Saturday, PC Ian Anderson, chairman of the Gloucestershire Police Federation, criticised government plans to cut funding to forces by a fifth over the next four years.
He said: "We're not getting the support from the head of the government, we're not getting the support locally from our MPs who are continually, despite our lobbying and approaches by our members, giving out the whip line of what the government are saying that of course we can cope when we know we can't.
"Some of our members went away to support the riots when they initially kicked off in London at the weekend.
"But they had to come back to help on Tuesday night and we're glad they were there.
"But what it meant that for 24 hours except for a two-hour break, they were working. They're real people with wives, families at home."
Prime Minister David Cameron has refused any suggestion of a U-turn on police cuts.
A dispersal order has come into force in part of Gloucester in response to the disturbances.
The police order, which covers Barton Street, came into operation at 12:00 BST on Thursday and runs for six months.
It means groups of two or more can be banned from the city centre for 24 hours if the police believe their behaviour could result in harassment.
It will be run within the boundaries of Trier Way, Metz Way, Eastern Avenue, Finlay Road and Stroud Road.