Long Ashton bypass resurfacing work costing £275,000 begins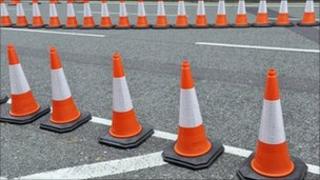 Part of one of the major routes in and out of Bristol is to close for maintenance work costing £275,000.
Resurfacing and traffic light replacements on the Long Ashton bypass will begin on 15 August and take two weeks to complete.
Sections of the road, and the north-east and south-west bound slip roads, will shut.
"With a scheme of this size... there are bound to some delays," said Elfan Ap Rees of North Somerset Council.
"We will work as hard as we can to keep these to a minimum.
"By combining the resurfacing and traffic light upgrade we will be cutting down congestion for the travelling public," said Councillor Ap Rees.
Phased approach
Temporary signals, temporary traffic lights on the slip roads, and speed limit restrictions will also be in place whilst the work takes place.
The first section of the resurfacing work will be the north-east bound lane (toward Bristol) of the A370 from Yanley overbridge to the junction with the B3128 slip road.
Other sections of the road will then be resurfaced in phases.
The new low voltage traffic signals will be able to operate at just 48 volts - the current signals use 240 volts - which the council hopes will reduce carbon and energy emissions by 50% in the long term.
The new signals will include vehicle detection technology and built-in LED lamps, making them effective in bright, sunny weather.