Cabot Tower in Bristol reopens after £420,000 of work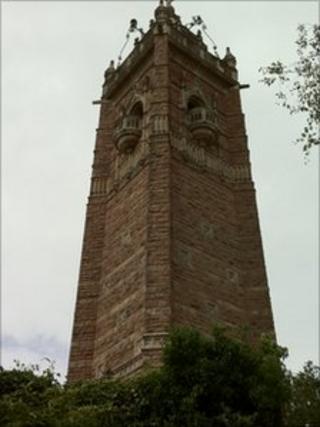 A Bristol landmark has reopened to the public after undergoing £420,000 worth of restoration work.
Cabot Tower, on Brandon Hill, was built to commemorate the 400th anniversary of John Cabot's voyage to America.
It was closed after cracks appeared in the stonework around the observation galleries at the top of the structure.
The tower was built in 1897-98, four centuries after John Cabot set sail from Bristol for Newfoundland. It reopened at 13:00 BST.
The cost of restoration was shared between English Heritage and Bristol City Council after the tower was closed in 2007 for safety reasons.
'Rich maritime past'
Simon Cook, deputy leader of the council, said: "I am really pleased to see Cabot Tower open again.
"Cabot Tower has a very special place in the history of the city and it was vitally important that any restoration works undertaken were correct."
Investigations into the cracks found ironwork in the tower had badly corroded which had in turn affected the brickwork. There was also found to be a lack of structural metal ties.
Andrew Vines, planning director of English Heritage in the South West, said: "It's wonderful to see Cabot Tower open to the public again.
"The iconic tower is looking splendid and stands as a reminder of Bristol's link to its rich maritime past and its place in the world."
During repairs on the Grade II-listed building, specialist scaffolding was used which did not attach to the sensitive stonework but created a cage around the tower.
The tower is 105ft (32m) high and stands 260ft (79m) above the harbour it overlooks.