Bristol Evening Post attack: Group claims responsibility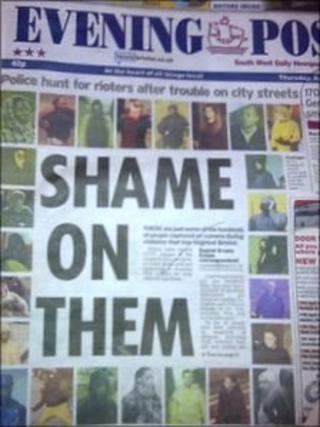 An anonymous group has claimed responsibility for an attack in which 17 windows at the headquarters of the Bristol Evening Post were smashed.
It is thought the Bristol News and Media building was attacked on 12 August after the paper printed pictures of of suspected rioters.
Disturbances broke out in many parts of the city centre last Tuesday which saw police attacked and property damaged.
An online message from the group said it deliberately targeted the paper.
A newspaper spokesman put the cost of repairs at some £20,000.
The message posted online by the group said it attacked the building on Temple Way because "the media demonises those who choose to resist and fight back, opening the way for more repression against us all".
It said that despite a heavy police presence, the group smashed all the front bottom windows and some of the higher ones and "decorated" the front with paint bombs.
The incident was caught on the newspaper's CCTV system at 02:50 BST and is being investigated by detectives from Avon and Somerset Police's serious and major crime unit.
Speaking on Friday, the editor of the Bristol Evening Post, Mike Norton, said he did not know if there was a connection between the front page of Thursday's Evening Post and the attack on the building.