'Barge' bookshop does business in Bath as part of tour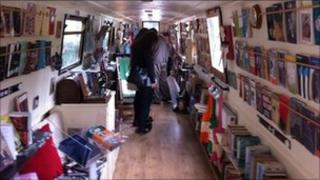 A bookshop owner from Staffordshire whose business was losing money on land has taken to the water.
Sarah Henshaw, who owns a 60ft (18m) boat, decided to travel around England with her bookshop, mooring in places such as Oxford and London.
As well as paying for books, customers are also encouraged to barter using "milk, meals and amusement".
Ms Henshaw, whose Book Barge is moored in Bath on a six-month tour, said she was doing better business on water.
Doughnut swap
She said: "It was born out of desperation. It was a matter of staying where I was and closing within a few months or doing something about it.
"It's been good in Bath which I've been surprised about because they've got two amazing book shops already which are always winning independent book shop awards."
She said the boat had been turned solely into a shop with "bookshelves, books and not much else".
Ms Henshaw, from Lichfield, added: "When we bought it we had to strip the living accommodation out, the shower, kitchen, toilet, everything and I'm now paying the price."
While travelling around the English waterways mooring in places such as Gloucester, Worcester and Manchester Ms Henshaw says she has to find particular spots.
"I'm moored by a leisure centre in Bath and they let me use their showers and toilet but normally I'm hoping for a mooring near a pub so I can use their facilities."
As well as paying for books customers are encouraged to barter in the "three m's" - milk, meals and 'musement.
"I barter books for food and accommodation along the way. I'm open to drinks, pubs and evening entertainment, like the cinema.
"So far, I've had a homemade Victoria sponge cake, a home-cooked Indian meal, a bed in Bristol.
"People are incredible around here it's just brilliant, I haven't gone hungry yet.
One customer, Jenny said: "It's adorable and I like the idea she's not after payment with money but with the three m's. I'm going to try and work on amusement."
Another, Janet, who bought a copy of Lorna Doone said: "It's great, it's something I've never seen before and it's obviously very difficult to keep [businesses] going now."
Rather than cash, Janet said she had paid for her book with a doughnut.