Sion Hill ruined by asphalt and yellow lines, residents say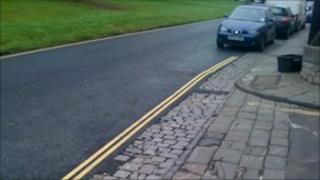 Residents in a street in Bristol say it has been ruined by road surfacing and double yellow lines.
Sion Hill, near Clifton Suspension Bridge, is an area of conservation with Georgian houses and cobbled guttering.
But residents say council contractors have asphalted over the cobbled guttering, painted double yellow lines and "just don't care".
Bristol City Council said any mistakes were "down to human error" and were being addressed.
Louise Osmond who has lived on the street for five years said: "This is one of Bristol's beauty spots.
"We've got cobbled areas on both sides and they're just tarmacking over the cobbles.
"And after that they're just putting yellow lines wherever they like, not where they were. They just don't care and that is the biggest problem."
She said yellow lines had been painted across a road junction and drains and in some cases two sets of double yellow lines had been painted next to each other.
Another resident said he had received three parking tickets as a result of the new lines which was "utterly ridiculous".
Terry Bullock, Highways Manager at the council said: "We do care. He has only tarmacked the guttering that was exposed, no new areas have been covered over as far as I can tell, but he has made a mistake with the yellow lines unfortunately.
"They should have had plans and worked to them, there's obviously been a communications break down. They will have to remove the yellow lines and make good the errors they've made."
Mr Bullock said any residents who had received parking tickets could appeal and they would be cancelled.