Bristol gorilla fan completes cycle to Birmingham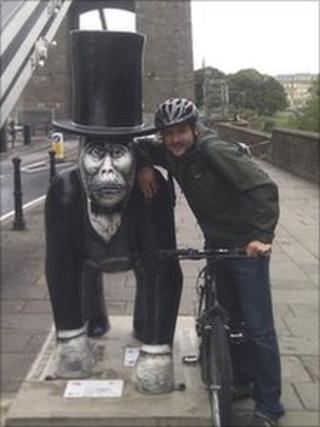 A fan of a series of life-sized gorilla sculptures has cycled from Bristol to Birmingham in his quest to capture them all on camera.
Tony Hancy, 27, travelled 220 miles (354km) to photograph the 61 works.
Created as part of Bristol Zoo's 175th birthday celebrations, the artworks are dotted around various locations in Bristol and the surrounding areas.
There are also gorilla sculptures at Slimbridge Wetland Centre and Birmingham Coach Station.
The University of Bristol postgraduate student said: "It started just as a bit of a day out during the Harbour Festival.
"I got on my bike and cycled round and did the few in town which was about half of them. And then I decided to do the out of town gorillas as well."
He rode to Bitton, Bristol Airport, Avonmouth, Cribbs Causeway, Slimbridge in Gloucestershire and Chipping Sodbury.
'Captured imagination'
Mr Hancy said it took him six hours and five minutes to cycle to Birmingham on Wednesday.
"I was originally going to take a coach to get the final gorilla in Birmingham but then I thought 'I've done the others on my bike and I like to cycle'," he said.
"The gorillas have captured the imagination of a lot of people around Bristol."
He said he now plans to cycle to all the 101 small gorillas sponsored by local schools in the next few weeks.
He added that he eventually hopes to travel to Cameroon to visit Metet School, which was built by conservation charity Ape Action Africa.
Bristol Zoo gave the school a small gorilla sculpture in April.