Items from TV show Casualty auctioned for hospital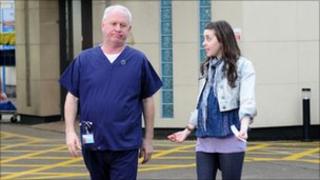 Items used in the television series Casualty are to be sold to raise funds for Bristol Children's Hospital.
The BBC show filmed its final scenes in the city where it has been based for 25 years before its move to Cardiff.
A Holby Hospital sign, scrubs worn by the character Charlie Fairhead, photo IDs used by the characters and a clapperboard used in the last programme are all to be sold.
The items will be auctioned online and funds raised donated to the hospital.
"Bristol has played a vital part in the success of Casualty and we are hugely grateful to the people of the city for putting up with us for all these years," said executive producer Jonathan Young.
Derek Thompson, who plays Charlie Fairhead, said there was good memorabilia in the auction and added the neighbouring Bristol Royal Infirmary had given a lot of support to the programme.
"It's a great way to to raise money for the Grand Appeal and to show our support for all the help the BRI has given us over the years," he said.
Casualty will join a growing stable of BBC drama programmes to be produced in new studios in Cardiff Bay, including Doctor Who and Torchwood.