German finds Portishead man after failed 800-mile trip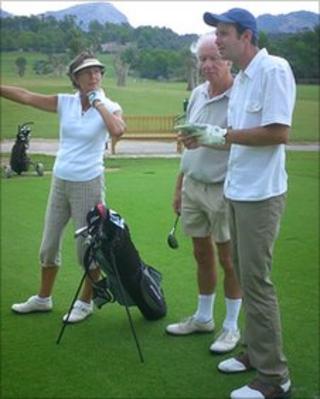 A German teacher will honour a bet he made with a North Somerset man after a failed 800-mile quest to find him.
Sebastian Steinzen owes Patrick Burns, from Portishead, a pint of beer after losing a challenge whilst playing golf on holiday in Majorca six years ago.
In a bid to track him down, Mr Steinzen travelled to the UK with a holiday photo and visited golf clubs and even Mr Burns' local pub in Portishead.
Contact between the pair was restored following a local newspaper appeal.
In 2005, during a round of golf, Mr Steinzen bet his opponent that he could get the ball within 6ft (1.8m) of the flag.
He lost the bet and Mr Burns left for home before the bet was settled.
"If you lose a bet you have to pay it, so I went to Portishead to try and find him," said Mr Steinzen.
'Quite shocked'
"The only thing I knew was that he always drinks in a pub called The Black Horse, so I went there every night from Wednesday to Monday.
"[Now I know that] the only day he drinks there is on a Tuesday."
During the visit Mr Steinzen contacted a local newspaper who printed his photos and story.
"Patrick was quite shocked because he found himself in the newspaper and his telephone didn't stop ringing all day," he added.
Mr Burns said he was delighted that Mr Steinzen, who is now planning a return visit in October, had taken so much trouble to track him down.