Casper Flagg's parents question river safety in Bath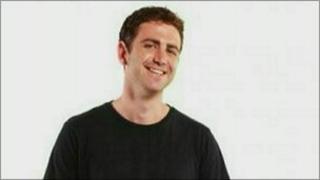 The parents of a Bath student who drowned after a night out in the city have criticised river safety.
Graphic designer Casper Flagg, 28, from Radstock in Somerset, was last seen leaving a nightclub in the city in the early hours of 29 November, 2009.
His body was recovered from the River Avon at Twerton in Bath on 26 December.
Mr Flagg's parents, Marian and Derek, want more safety protection, such as railings, along the river path near Midland Bridge.
Four men have died after falling into the River Avon in the last three years.
"I'm disappointed," said Mrs Flagg.
"If it was health and safety at work, then possibly something would have been done by now, so why has it been left?"
Mr Flagg said:"I just feel they have to take it seriously.
"It's only going to be a matter of time before it happens to some other family.
"It just devastates the whole family. It might not be your child today but it could be tomorrow. Something has to be done."
Highlight the dangers
Avon Fire and Rescue Service is working with various groups in the city to highlight the dangers of drinking and walking home along the riverfront.
"We get called to more incidents along this section of the river [Midland Bridge] than any other section, about one incident a month" said Denis McCann from Avon Fire and Rescue.
"Last year over the bank holiday, we were up to four or five incidents."
There are 25,000 students from Bath Spa University and the University of Bath living in the area during term time.
"We're not trying to be killjoys," said Chris Ellicott, director of student services at Bath Spa University.
"We're not saying, 'Don't go out and have a good time' but we're saying have a good time but please get home safely at the end of it."
Bath and North East Somerset Council has commissioned the Royal Society for the Prevention of Accidents to look at how safety along the River Avon can be improved.