Bagstone sheep rustling leads to meat health warning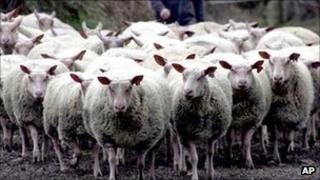 Sixty sheep have been stolen from a field in South Gloucestershire, leading to a warning over the sale of illegal meat.
Lambs and ewes were taken from a farm in Bagstone some time between 8 and 16 August.
Thieves lifted the gate to the field off its hinges and used a sheepdog to round up the animals.
Police have warned that meat illegally and unhygienically butchered is being offered for sale.
PC Roger Hopes from Avon and Somerset Police said: "Obviously these animals were taken by someone with some knowledge of handling sheep, probably with dogs, who would have needed a vehicle - possibly a 4x4 and a trailer.
"Stolen livestock are not taken to reputable slaughterhouses and there is a potential health risk in any such meat, on top of unnecessary suffering for the animals."
People have been warned to look out for cuts of lamb being offered for sale door-to-door.