Bristol twins get 20 top GCSE grades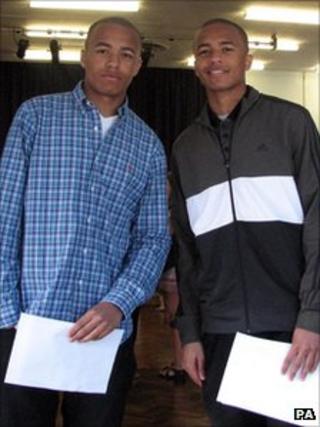 Twins from Bristol are celebrating achieving 20 top grades in identical GCSE subjects.
Chris and Anthony Sefia, 16, who attend St Mary Redcliffe school, attributed their success to "healthy competition".
They took subjects including English literature, maths and art. Anthony achieved nine A*s and two Bs while Chris got seven A*s and four As.
"We're always competing, always want to see who is better at everything," Anthony said.
The boys, from St George, took GCSEs including English language, English literature, maths, art, religious education, a science triple award, and an ICT (information and communications technology) double award.
'High expectations'
Anthony added: "I think it just all boils down to competition, so we just make sure we are in the same boats, as it were, so we can compete with each other, I think it just benefits us both."
His brother said: "It's healthy competition so it always helps and benefits in the end, always improving.
"We put in the work so we sort of expected it, we had high expectations, so at the end of the day we hoped we'd get good results."
The teenagers plan to continue studying biology, maths, chemistry and physics at the school and are considering careers in medicine.
Head teacher Elisabeth Gilpin said: "I'm absolutely delighted for the twins, they are lovely boys and they've worked really, really hard and they deserve their great results.
"I think they are both very bright and have a really good attitude to learning and I think they've worked hard through the majority of their time here.
"You have to be very motivated to get the As and A*s these days."
The school had the best GCSE results in its history this summer, with 90% of students achieving the 5A*- C pass rates.