Casualty auction raises over £2k for Bristol Children's Hospital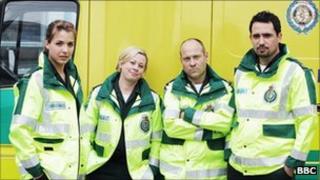 Memorabilia from the BBC One medical drama Casualty has raised more than £2,300 for Bristol Children's Hospital.
Earlier this month the show filmed its final scenes in Bristol, where it has been based for 25 years, before its move to Cardiff.
Items for sale included a Holby Hospital sign, scrubs worn by the character Charlie Fairhead, and photo IDs used by the characters.
The online auction closed on Sunday night.
Casualty will join a growing stable of BBC drama programmes to be produced in new studios in Cardiff Bay, including Doctor Who and Torchwood.