Bridge work near Keynsham could delay motorists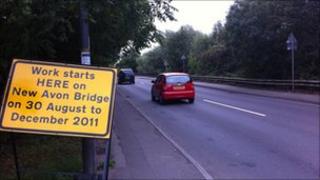 Major road works on a route out of Keynsham may not be finished until Christmas, motorists have been warned.
The Avon Bridge - which runs over the river and the A4, and links Willsbridge and Bitton - is to undergo safety improvement work.
Lights will be used to control traffic in both directions as the work is carried out.
A South Gloucestershire Council spokesman said the work could mean delays for motorists.
"The work involves safety improvements, including strengthening the footways and replacement of the parapets," he said.
"The roadway will also be resurfaced and the bridge will be covered in a waterproof coating.
"Motorists need to be aware that there will be single-file traffic on the bridge during the work, with temporary traffic lights installed."
The bridge, built in the 1970s, will also be closed for two nights during the work.