Bristol City face Ashton Vale stadium court challenge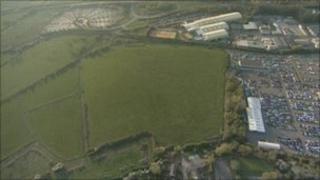 Bristol City FC's plans for a new 30,000-seater football stadium look set to be challenged in the courts.
The club said the city council had received a letter indicating a judicial review would be sought over its decision to allow the £92m development.
In June the council rejected a call to register the land at Ashton Vale as a town and village green.
Residents had said the ground was used for recreation and should be protected from development.
"Whilst the news of this letter being submitted so late into the three-month appeal period is disappointing, the club remains confident any review will be rejected," a club spokesman said.
'Fully committed'
"It is felt the city council's decision is a robust one and has taken into account all the evidence provided to it by both sides.
"We appreciate the frustration that will be felt by the thousands of people who have backed this much-needed development and investment into the city."
The club said it remained "fully committed" to delivering the new stadium, which it said would benefit both the city and the wider region.
The site of the proposed ground, which is near the club's current Ashton Gate ground, is owned by the club's majority shareholder Steve Lansdown.
A bid to register the 42-acre site as a town green was partially rejected by the council, meaning a new football stadium could be built.
The council decided to designate the southern part of the land as a town green but not the northern part, which would house the stadium.
An independent planner had recommended the land should be designated as a town green.
The council's communication and marketing director, Peter Holt, said: "The process by which the decision was made took place over many months and a great deal of time and effort was made in order to reach a decision which addressed everyone's concerns.
"We are very confident that due legal process was adhered to at every stage and we will robustly defend our decision."