Park-and-ride used by 139 drivers in three months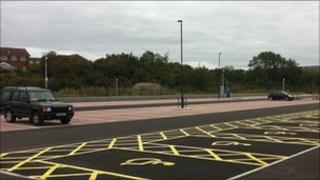 A £1.3m park-and-ride car park open for three months and used by 139 motorists has made a council look stupid, a councillor has said.
South Gloucestershire Lib Dem councillor Pat Hockey said not many people knew it was there.
The Stoke Gifford car park near Bristol has no bus service but is planned to be part of a rapid transit scheme.
Council transport spokesman Brian Allinson said it would help alleviate parking problems.
Mrs Hockey, the Lib Dems' transport spokeswoman, said the council had failed to publicise it.
She said: "They need to promote it. Nobody knows that it is there. It's gone off half-cock and made the council look stupid."
Conservative Mr Allinson said the problem had been down to a lack of timing between parking regulations coming into force and the park-and-ride opening.
He said: "Stoke Gifford is drowning in parked traffic and this park-and-ride should alleviate that.
"It would be wrong to say that everything is fine, and we are disappointed. People haven't got used to using it and its just a slow start."
The park-and-ride could eventually be on a planned Bus Rapid Transit route which will take passengers into the city centre.
The four West of England councils have bid for £250m of funding for the scheme but a decision will not be made before December.