Work starts on Wraxall elephant sanctuary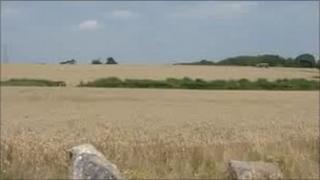 Work has started on a controversial elephant sanctuary in North Somerset.
Elephant Eden, a 15 acre enclosure at the Noah's Ark Zoo Farm near Wraxall is planned to house four elephants once it is completed.
The planned sanctuary includes an indoor elephant house and swimming facilities and is expected to become the largest site in Europe.
But Chris Draper from the Born Free Foundation said the current plans were "by no means [big] enough".
Anthony Bush, the owner of Noah's Ark Farm Zoo said he hopes the sanctuary will encourage natural herd migration, feeding and social behaviours to keep the elephants active.
He said: "It's quality of life that you're looking for and we're hoping to try and give them a fantastic life here and we expect them to live longer as well."
'UK not suitable'
But Mr Draper said the site was not large enough, especially when considering some American sanctuaries operated over hundreds of acres.
"It may be at the bigger end of some captive facilities in Europe, but that's by no means enough.
"Elephants operate on a vast scale, far, far bigger than anything you could replicate really in captivity.
"We believe that the UK is not a suitable place for elephants in captivity, in fact we struggled to see that there is any need for elephants in captivity globally."
Mr Bush said plans for Elephant Eden followed best practice recommendations made by the Coalition for Captive Elephant Wellbeing.