Campaigners walk in Bristol for road safety campaign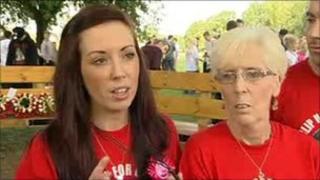 Hundreds of people have marched through Bristol as part of a road safety campaign following a teenager's death.
Conor Hall, 16, died in June after falling off his moped and sustaining serious head injuries.
It was later found he had not clipped up his helmet because it was thought to be "uncool".
His family and supporters marched as part of the Clip up for Conor campaign, from his memorial bench in Downend to the crash site in Fishponds.
'Unsafe is uncool'
The campaign, which has attracted nearly 6,000 supporters on Facebook, aims to show young people the consequences of not wearing their helmets correctly and that "unsafe is uncool".
Kayleigh Hall, Conor's sister said: "We lost our youngest brother through not clipping up his helmet.
"The main reason we're here today is to not let it happen to any other person, if we can save just one life that's means we're doing something."
Conor's mother, Arline Hall said she had been unaware that her son and his friends were not wearing their helmets correctly and that he was "always taught it's dangerous on the roads".
Mrs Hall added Conor had only sustained a few scratches on his body and clipping up the helmet may have saved his life.