Bristol war hero statue to William 'Bill' Slim 'unlikely'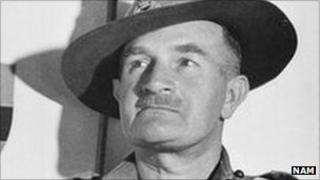 Plans for a £58,000 statue dedicated to a Bristol war hero look set to be dropped after the city council decided it was too expensive.
Three years ago the council said it would make the honour to Field Marshal William Slim, who led troops in the Burma campaign of the World War II.
It said the cost of the statue would have an impact on other services.
A bronze plaque for the Bishopston-born soldier was unveiled next to the cenotaph three years ago.
At the time, the council said it had "reaffirmed its aspiration" to build a statue and had set aside the money for the work.
'Great respect'
Field Marshall Slim was born in 1891 and raised in Birmingham. During World War II he was given command of the Burma Corps, the so-called "forgotten" 14th Army.
A council spokesman said: "We worked closely with members of the Burma Star Association, Gurkha veterans and local community groups to find a way of celebrating both his career and The 'Forgotten' Army.
"We commissioned a commemorative plaque and held an unveiling ceremony three years ago that was attended by his son, Viscount Slim, the Lord Mayor and Burma veterans.
"The cost of a statue is very high and since 2008 the public sector financial situation has become even more difficult.
"It is unfortunately therefore unlikely that we would be able to find the money for this without affecting other services."
Peter Lawrence, the secretary of the former Bristol branch of the Burma Star Association, criticitised the decision.
He said: "They can find money to rejig the whole of the Bristol Tramways Centre, and what a mess that is.
"They could have spent a lot of that money on a statue for Bill Slim."
Outwit the enemy
Field Marshall Slim was seen as an astute military commander, whose tactics helped drive the Japanese out of Burma, the military historian Robert Lyman has said.
He said he tried to outwit the enemy mentally, rather than trying to overcome him by force alone.
Mr Lawrence said Slim was known as Uncle Bill because of his concern for his soldiers.
He added: "He encouraged his men. He would do anything for his men, but you had to do the same back as well.
"He treated his men the same as he did his officers.
"He knew he would have trouble getting equipment but he found some, men and ammunition - he found it all for us."