Filton airfield plans condemned by Bristol City Council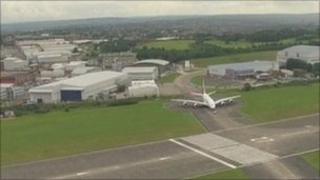 Plans to build 3,500 houses at the site of Bristol's Filton airfield have been condemned by the city council.
In April BAE Systems said it would close the site at the end of 2012 following a review of its commercial and economic viability.
South Gloucestershire Council has said the site is suitable for development as part of its long-term core strategy.
The leader of Bristol City Council, Barbara Janke, said she wanted to see "a proper strategic approach".
She has called on South Gloucestershire Council to work with the city council to create jobs rather than homes.
"We believe it should be about a proper strategic approach to this area of the city which has been so important to the city's history," she said.
Labour councillor Bill Bowrey of South Gloucestershire Council, said he wanted to keep the runway open.
"There's always a use for an operational airfield of that standard. I believe all the options have not been looked at yet," he said.
"This is the wrong decision both economically and environmentally."
The move has also been criticised by Sir George White, whose grandfather founded the Bristol Aeroplane Company.
"[BAE Systems] inherited it, they didn't buy it, they didn't earn it," he said.
"For them to sell it off now and risk future jobs seems to me to be incredibly undesirable.
"It seems to be the biggest asset strip that this district has seen in many, many years. It's an absolute tragedy for the future."