Official opening for £25m Avonmouth waste plant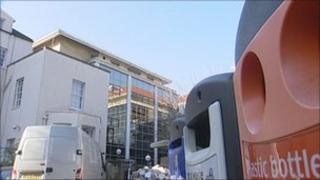 A £25m waste plant in Avonmouth has been officially opened by Olympic gold medal-winning rower Sir Steve Redgrave.
The mechanical biological treatment plant began operating in April and is one of two giant household recycling plants in Avonmouth aimed to reduce the amount of waste going into landfill.
The plant will compost suitable waste into a type of soil for planting energy crops and improving brownfield land.
In 2013 the second plant will open and aims to turn waste plastic into diesel.
'Soil layer'
The waste will be sorted mechanically into compostable and non-compostable waste.
Suitable waste will be moved into a sealed building to compost over a period of about six weeks.
New Earth Solutions has built the plant for Bristol City Council and will sell on the compost once it is made.
Operations director Peter Mills said: "We're using it in land remediation projects across the country and we have sites identified which will benefit.
"This remediation material is used to form a soil layer for planting schemes like the production of energy crops."
This plant will serve a 30-mile radius which covers 180,000 homes in South Gloucestershire, North Somerset and Bath.
On Wednesday, Bristol City Council approved changes made to the planning application for the second waste plant in Avonmouth.
It will built by waste firm Sita, which is in charge of collecting waste from households until October after which this £15m contract will be taken over by May Gurney.
The household recycling plants are part of the local authority's targets not to send any waste to landfill by 2014 so it could save millions of pounds in landfill tax.