Veteran Points West presenter Chris Vacher to retire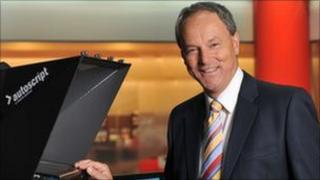 Chris Vacher, the veteran presenter of regional news programme Points West, is to retire.
Mr Vacher, who has fronted the programme for 28 years becoming the longest-serving regional presenter, will leave in December.
Previously he has been named Regional TV Personality of the Year by the Royal Television Society and recognised with a BBC Lifetime Achievement Award.
The 59-year-old said he was "proud" to have presented Points West for so long.
Mr Vacher previously served in the navy which he joined in 1969.
He was brought up near Axminster on the Somerset-Devon border and was educated at Sherborne School before training for the navy in Dartmouth.
He joined the BBC in 1982 and spent a year working for Radio Bristol before he switched to Points West in 1983.
Neil Bennett, Points West's editor, said: "It's a genuine pleasure to work with Chris.
"He is a consummate professional and has developed a unique relationship with Points West viewers."
Lucio Mesquita, head of BBC West, said: "By leading the programme for nearly 30 years, Chris played a major role in helping make Points West one of the most successful regional news programmes in Britain."