Lib Dems lose Southmead seat to Labour in by-election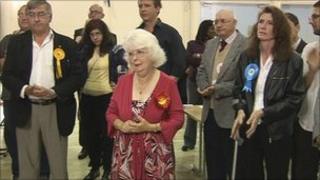 Bristol's Liberal Democrats have been defeated by the Labour Party in the Southmead by-election.
Thursday's loss weakens the Lib Dem grip on power in the authority, which the party runs as a minority administration.
Brenda Massey is Southmead's new Labour councillor, after Lib Dem Jacqueline Bowles resigned due to ill health.
Lib Dem leader of Bristol City Council Barbara Janke said the defeat was a "very poor result" for the party.
Ms Massey said the Labour Party had fought a clean campaign and not cast slurs on any other candidates.
'Huge issues'
"We will attack policies and will continue to do so but we won't make personal attacks on individuals.
"The response I got on the doorstep is that people don't like negative campaigning.
"There are huge issues in Southmead that needed to be tackled - most particularly the 20% cut in funding for The Ranch [an adventure playground] and the youth centre.
"I presented a petition to council this week with nearly 2,000 signatures on it and that shows that local people in Southmead want to keep the facilities for their children."
Speaking of the loss of the seat, Ms Janke said the defeat should be seen in proportion.
"This has been a Labour stronghold for decades.
"Jackie Bowles took the seat for the Lib Dems two years ago, but she has been very ill for some time which is why she felt she had to stand down, and she has not been able to do all that she wanted to in the ward."
Ms Massey polled three times as many votes as the Lib Dems, who were pushed into third place, behind the Tories.
The turnout was 28%.