Tyntesfield House and Dyrham Park closed as safety precaution due to high winds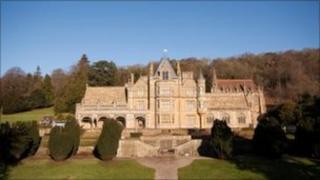 Two National Trust properties have been closed as a safety precaution because of high winds.
Officials at Tyntesfield House and Gardens, near Wraxall, and Dyrham Park, near Bath, said visitors could be at risk of debris from trees.
Wind speeds were forecast to top 50mph (80km/h) in North Somerset on Monday.
"We have an open location with views across to the River Severn, which leaves us vulnerable to high winds," said Tyntesfield's Linda Coode.
"Trees are in full leaf at the moment and visitor safety is our priority."
There is also a chance that Tyntesfield House and gardens will remain closed on Tuesday if the wind persists, whereas staff at Dyrham Park will visually inspect the safety of trees before reopening the estate.
Victorian house
"We have already seen winds of up to 60mph at Filton, South Gloucestershire," said BBC Points West's weatherman, Ian Fergusson.
"The winds will start to lessen into this evening. Tuesday won't be anywhere near as windy as Monday."
Tyntesfield House is considered to be one of the greatest Victorian private houses to have survived intact.
Following the death of Lord Wraxall in 2001, the National Trust began emergency fundraising to save the estate.
Dyrham Park is the late 17th Century home of William Blathwayt, a civil servant who prospered during the political upheaval of three monarchs.