'Electoral genocide' fear over name of Bradley Stoke seat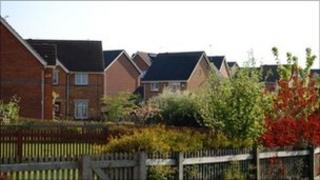 Wiping the name of a town near Bristol off the title of a Commons constituency would be "electoral genocide", according to one local councillor.
The Boundary Commission has proposed national changes including the Filton and Bradley Stoke seat being partially merged with a neighbouring seat.
It would mean the seat being renamed Thornbury and Filton, and would see Bradley Stoke missing out.
Councillor Robert Jones said Bradley Stoke should stay in the name.
'Standing weakened'
He said the proposed name change would have a negative impact on the South Gloucestershire town.
"If this proposed name is accepted the national standing of Bradley Stoke will be weakened and its residents will feel underrepresented," he told the commission.
"I urge you to reconsider the name and restore Bradley Stoke within it as Bradley Stoke, Thornbury and Filton."
Bradley Stoke was only included in the name of the seat for the first time in 2010, when Conservative Jack Lopresti was the victor.
The town has about 17,000 residents, compared to 12,000 in Thornbury and 9,000 in Filton.
But the constituency could face a partial merger with the Thornbury and Yate seat which is held by Liberal Democrat pensions minister Steve Webb.
He said the changes would help even out the electoral map.
"Increasingly powers have been devolved, so do we need such a heavy central government? We don't think that you do.
"And rather than one MP representing 50,000 people and another representing 100,000 people, it's more even across the country so everybody's vote has much more of an even impact."