Great Western Air Ambulance to remain at Filton home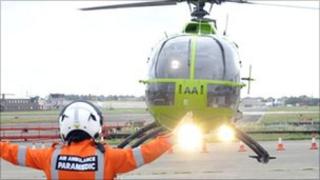 The Great Western Air Ambulance Service will remain in Filton despite the sale of its current airfield home.
In a letter from the chief executive of BAE Systems, which owns Filton airport, the charity has been told its home will remain within the airfield boundary.
BAE announced in April that it was to sell the airport, near Bristol, as the land was no longer commercially viable.
The air ambulance service operates in Bristol, North Somerset, South Gloucestershire and Gloucestershire.
'Good news'
In a letter to the charity, BAE chief executive officer Ian King said the company understood the importance of the air ambulance to Filton and its critical role in providing emergency services to the region.
"BAE Systems is committed to working with you to enable continued operations from within the current airfield boundary," he wrote.
The current air ambulance headquarters would probably need to be moved to a new area within Filton if the land was redeveloped.
John Christensen, chief executive of the charity, said: "This is really good news and we are grateful to Ian King for this reassurance.
"It's now important to ensure any new base is suitable and affordable for Great Western Air Ambulance Charity".
The service, which was launched at Filton three years ago, is funded entirely by donations and needs £1.3m each year to stay in the air.