Weston-super-Mare Grand Pier boss criticises tourism help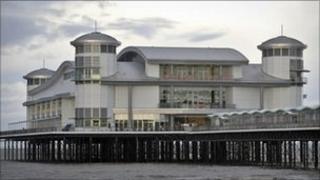 The owner of Weston-super-Mare's Grand Pier has claimed not enough is being done to promote the seaside town's tourist attractions.
Kerry Michael said he was "bitterly disappointed" the current North Somerset Council administration was doing "little to promote the town".
"Tourism is the kingpin in our local economy," Mr Michael said.
Councillor Felicity Baker, in charge of tourism, said the comments were "inaccurate" and a lot had been done.
She said the Conservative-run council had made improvements for visitors.
"Our tourist information centre is now a larger, much-improved facility situated on the seafront in the Winter Gardens.
"We have recently completed a £30m-plus project to improve sea defences and enhance the promenade in Weston-super-Mare with new lighting, seating and public art."
'Not an accident'
Mr Michael said he believed visitor numbers were down at the pier because of bad weather, the economy and a lack of promotion.
"They should be doing what all other previous administrations have done and that is to promote not just Weston but North Somerset around the country and even further afield.
"The fact they we had tourism previously was not an accident.
"People worked very hard and the previous administrations invested in advertising and promotion of the town and the areas and that is what has stopped."
Ms Baker said tourism bosses in the town could take the initiative and said the council was facing large cuts.
"If the tourist attractions in the town, such as the Grand Pier, wanted to set up a group to help promote the area we would be very happy to take part," she said.
"Like every other local authority in the country cuts in our funding from government mean we are having to make savings which for us amount to more than £47m over the next four years.
"Despite this we continue to promote North Somerset as a great place to visit and stay."