Mangotsfield's 'Berlin Wall' to be debated at public meeting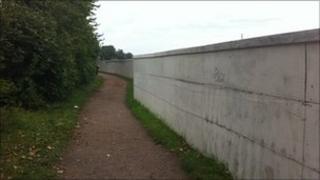 A public meeting has been called about a fence near Bristol known locally as the "Berlin Wall of Mangotsfield".
The fenced-off land is owned by Taylor Wimpey whose planning application to build 180 homes was refused.
Chairman of Mangotsfield Open Green Spaces, Mike Reeves, said he believed the fence had been erected to stop people using footpaths across the site.
Taylor Wimpey said the land was privately owned and it had installed a security fence to prevent trespass.
'Vandalised and graffiti'
The 6ft (1.8m) wooden fence was erected at the site in Cossham Street in January shortly after Taylor Wimpey withdrew its planning appeal.
Since then the white fence has been vandalised and graffiti daubed in places.
Local Conservative MP Chris Skidmore, said he believed the developers were holding on to the land so they could build homes on it eventually.
"I will continue to consistently oppose that with local residents," he said.
"We've had this stand-off as a result [over the use of the land] and this fence, which is like the Berlin Wall of Mangotsfield, has been erected.
"I can understand the developers may want to look after their land and protect it - but protect it from whom?
"People want to enjoy the field - they're not harming anyone - in fact it's causing more anti-social behaviour by the increased use of graffiti and the fact that it's often being vandalised."
'Village green status'
Mike Reeves said: "I believe it's to prevent people using the tracks across the field.
"So in two years time they can say no-one has walked on the land and therefore we wouldn't have the right to apply for village green status.
"I've been told many women are reluctant to walk down the path now because it is now a very confined space and you don't get the floodlighting from the nearby sports ground lighting it up at night.
The public meeting takes place at Mangotsfield Secondary School at 19:00 BST on Friday.
It will be chaired by Chris Skidmore and representatives of Taylor Wimpey are expected to attend.