Group wants derelict Westmoreland House redeveloped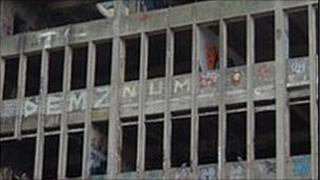 An action group has been set up in Bristol to campaign for the redevelopment of a run-down building.
Westmoreland House - a derelict towerblock and a 19th Century Grade II listed carriageworks - has been empty for the past 25 years.
The Carriageworks Action Group said locals wanted the area put to a "wide range of uses" including housing.
The buildings are owned by Comer Homes and several planning applications there have been turned down.
The council is currently pursuing a compulsory purchase order while another application from Comer Homes is considered by the authority.
A Comer Homes spokesperson said it was making "good progress" with its new application.
Lori Streich, from the action group, said the current application for more than 180 homes and an underground car park would be "difficult" to achieve.
"It isn't what the community wants and needs," she said.
Councillor Anthony Negus, who is in charge of housing and regeneration at the council, said: "We've had to think ahead and we've got co-operation from the Homes and Community Agency.
"We've put some money together and that will enable us, after extensive processes, to go through compulsory purchase if all else fails."