Ashton Vale town green review 'may take months'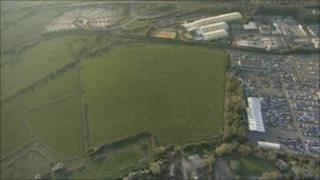 A decision over a judicial review which could thwart a new football stadium in Bristol could take up to two months.
Bristol City FC has planning permission for its ground at Ashton Vale and a bid to make the area a town green was turned down by the city council.
Campaigners have applied for a judicial review saying the green belt area should be protected from development.
The council said it would "rigorously" defend its decision which would allow the stadium to be built.
An independent planner recommended the land should be designated as a town green in 2010.
'Fighting fund'
But in the summer, the city council ruled only half of the land should be a town green while the other half could be used to build the stadium.
The review was submitted to the courts on 12 September.
Once a judge has examined the paperwork, it will either be rejected or a hearing date for a review will be announced.
The administrative section of the Royal Courts of Justice said this could take up to two months.
Council spokesman James Easey said: "The decision taken by the city council's Public Rights of Way and Greens Committee was lawful and proper.
"The council will therefore oppose this application rigorously."
Meanwhile, it has been revealed that Long Ashton Parish Council has allocated £20,000 towards the legal costs of the judicial review.
The "fighting fund" was approved by councillors in June who said making the area a town green was "in the interest of the area or its inhabitants".
Previously, Bristol City Council has spent £57,000 in a bid to mediate between the opposing parties.