Fraudster jailed over £50,000 theft from elderly couple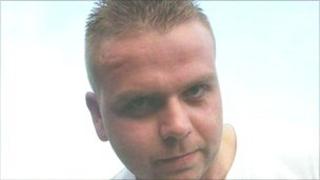 A man has been jailed for three-and-a-half years after posing as an elderly couple's grandson to the bank to steal their life savings.
Martin Thompson, 29, of Greve Court, Bristol, took £50,000 from three bank accounts belonging to Bertie and Marion Haskins, both aged in their 80s.
He started working for them as a gardener before tricking them into letting him sign their cheques.
He pleaded guilty to fraud at Bristol Crown Court.
Thompson took the money over a five-year period and used it to pay for holidays.
The deception was uncovered when the Haskins' rent and bills went into arrears and Thompson was reported to police by a neighbour.
Vicky Clail, another neighbour, said she was "gob-smacked" that he had stolen such a large sum of money.
"They totally 100% put their trust in him. They looked at him as a grandson."
Mrs Haskins died in hospital in May.