BAE Systems says Filton Airfield 'running at loss'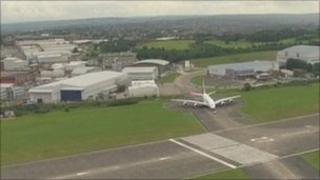 Filton Airfield near Bristol has been running at a loss for more than a decade, its owners have told campaigners.
BAE Systems managers told a meeting in Filton on Monday the airstrip had lost millions of pounds in that time.
In April the firm said it would close the site at the end of 2012 after conducting a review of its commercial and economic viability.
Campaigners claim the site has been gradually wound down.
Andrew Cheeseman, BAE Systems director of real estate, told the meeting: "From 2007 onwards we have a history of promoting the airfield... through websites, we have a brochure we send to the aviation industry both in the UK and abroad.
"We've also made offers to base users to incentivise them to use the airfield more. We've also invested in the terminal facility."
Labour councillor Ian Boulton, who is part of the Save Filton Airfield group, said he was not impressed with the website.
He added: "It really is disappointing to see they're trying to market our airfield in such an amateurish way when it's such an important asset."
South Gloucestershire Council is due to start a new round of consultation with the public over the future of the site next month.