Bristol's Bridge Valley Road to reopen after £2.7m repairs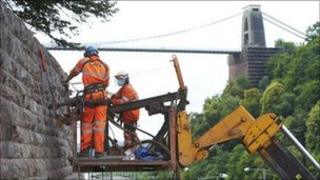 A Bristol commuter route which was closed in 2010 because a retaining wall was collapsing is to reopen on Sunday.
The city council has spent £2.7m on the 18-month engineering project, which involved stabilising a disused railway tunnel beneath Bridge Valley Road.
The authority said large cracks in the Avon Gorge were filled in with grout and sealed while the soil around the site was secured with special nails.
The road links Clifton to the Portway and south Bristol.
Councillor Tim Kent, transport spokesman, said opening the road would have an impact on nearby routes.
"The council is gently warning motorists who have been enjoying the delights of a free-flowing Portway that the party is, sadly, over.
"Bridge Valley Road is the only major route into Clifton from the west, and a vital cross-town route from North Somerset to North Bristol. It must reopen.
"We work hard to get the balance right to ensure as speedy a commute as possible for everyone."