Priory statue fitted with underwear found in Bristol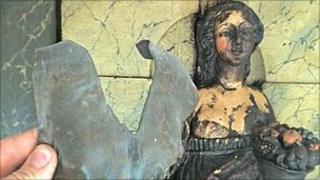 A busty statue, later fitted with underwear for modesty, has been uncovered at a Bristol church house
The rouge-cheeked woman was one of two statues found during restoration work at St James' Priory, where John Wesley worshipped.
There is speculation the statue's bare bosom was too much for Wesley and had to be covered.
Andrew Ziminski, from the restoration company, said the figure's underwear showed the lengths people went to to preserve modesty.
The priory, founded in 1129 by Robert, First Earl of Gloucester, is Bristol's oldest standing building.
In 2007, the grade one listed building was awarded a £3.2m Heritage Lottery Fund grant to carry out vital repairs to the fabric of the main structure.
It was during the restoration of the church house next door to the priory, that two statues of two women clutching fruit were uncovered.
They were camouflaged with a layer of "nasty modern brown paint", said Mr Ziminiski from Minerva Stone Conservation. He said he had hardly noticed the two figures over the fireplace.
"Paint conservation work revealed them to be a lush pair of rouged, cornucopia-clutching 17th Century over-painted ladies, one of whom was bare chested," he said.
Up until 1739, when the founder of Methodism opened the world's first Methodist chapel - the nearby New Room - St James was Wesley's parish church.
It was in the Jacobean splendour of the church house that he and his followers held their prayer meetings.
'Quite a distraction'
"Prayer meetings were and still are held in the room," said Mr Ziminiski.
"The uncovered lady must have proved quite a distraction - not only was her exposed bosom later decorated with a rather low-cut piece of underwear but a specially whittled lead cuirass (piece of armour) was affixed to her.
"And judging by the lead patina, she's had it on for a good period of time.
"So Wesley may have had a hand in covering her up."
The priory is currently home to the St James Priory Project which runs a residential drug rehabilitation centre.
The £4.4m project to repair the building was completed in July, and the centre was officially reopened with a mass carried out by Bishop Declan.