Bristol 'two all traffic' sign corrected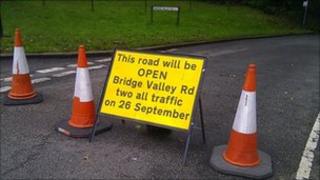 A sign in Bristol telling motorists a road will be open "two all traffic" is to be corrected by the council.
The road sign was placed at the top of Bridge Valley Road on Wednesday and told motorists the route would reopen on Sunday night.
Bridge Valley Road, which has been closed for the past 18 months, links Clifton to the Portway.
The council said it had instructed the traffic management contractor to rectify the mistake.
The road was shut in March 2010 when large cracks were found in the Avon Gorge, which runs alongside the road.
They were filled in with grout and sealed while soil around the site was secured.
The council said £2.7m had been spent repairing the road.