Bath Spa train passengers to be screened for knives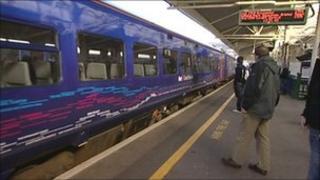 Airport-style metal detectors are to be used to screen passengers arriving at Bath Spa station.
Police said the equipment, which will be in place on Friday, will screen visitors arriving in the city for knives and other weapons.
Officers from British Transport Police said they would also send passengers that arrive at the station "obviously drunk or rowdy" back home.
Sgt Richard Durnford said the operation was to ensure the city was safe.
"The whole point is that you've got people coming from far and wide to come to Bath to have a nice time," he said.
"Some of them are coming armed with knives, coming with drugs, and already drunk and disorderly.
"We're going to be sorting them out before they even get a chance to set foot on the streets of Bath."
Sgt Durnford said officers would use their "discretion" to profile passengers to be screened.
A sniffer dog will also be on patrol to search for any drugs brought into the station.