Bristol and Bath Science Park opens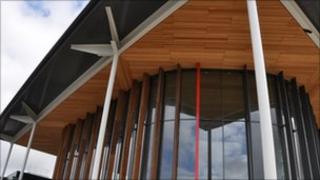 The £300m Bristol and Bath Science Park has opened, 25 years after the concept was first suggested.
It is located at Emersons Green near Bristol and aims to be a hub for new hi-tech firms to bring technology ideas from the laboratory to the market.
Chief executive Bonnie Dean said: "The science park will also be a flexible and professional hub for collaboration between industry and academia."
Science and Universities Minister David Willetts officially opened the park.
Over the past month, businesses have begun moving into the 59 acre (24 ha) site and the hope is it will eventually create jobs for about 6,000 people.
Along with private investment, the South West Regional Development Agency, which was abolished under the coalition government, invested £40m into the project.
The main stakeholders are the Universities of Bath, Bristol and West of England and it was designed and developed by Quantum Property Partnership.
The Homes and Communities Agency will be responsible for developing the park with Quantum.