'Only child' Royston Bird meets brother he did not know existed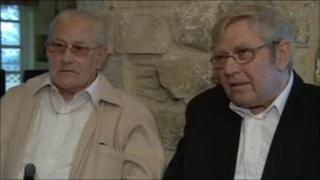 A Bath man who believed he was an only child for 77 years has met his brother for the first time.
Royston Bird was fostered by a couple in Melksham after his parents died when he was three years old.
But it was only after receiving a note through his door last week that he discovered he had a brother, Doug.
Royston said: "It's lovely, very emotional, we haven't seen each other. I didn't know anything about having a brother."
Royston was brought up at a children's home in Swindon before being fostered by a family who he lived with until he was 17.
But a week ago he received a note through his door from Nici Swan, who turned out to be his niece.
It said: "Dear Royston, I've been researching my family tree and found you on it. Could I talk to you briefly? Please, please give me a ring."
After phoning Ms Swan, the brothers arranged to meet and discovered they had lived in the same children's home before being fostered separately.
'Long time waiting'
Doug Bird, 80, said: "It's been years that I've wanted to meet him.
"Going back, I don't know how, but I knew I had a brother. I was in my 20s and all that I knew was his name was Royston.
"How I came to get that name, I don't know. And that was all I could give Nici, apart from that I knew nothing.
"It's been a long time waiting. He didn't know I existed, it's funny isn't it? It's all connecting."
During the first meeting, the brothers realised they had a lot in common, both living close to each other, working into their 70s and having a passion for gardening, which Doug said proved "it's all in the blood".
Royston said: "If I'd driven into Bath I most likely walked by him. This is something really special. The future will hold a lot I think. It's beautiful."
The family reunion came about after Ms Swan started researching the family's history.
'Same surname'
She said: "All I knew was that Royston was fostered at three. I didn't know where he was until he was three so to discover that they were in the same workhouse, with the same surname, was quite a shock."
Ms Swan also discovered that Doug and Royston's mother married and had three more children.
"He [Royston] grew up thinking he had absolutely no-one and to discover that you've got another two sisters and a brother, my goodness," she added.
"I just hope they at least exchange Christmas cards and meet up occasionally, they've got their own lives, but it would be lovely if they did."