Grant of £50,000 used to clean up Bristol brook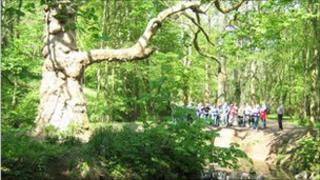 A £50,000 project has begun in Bristol to clean up a brook considered to be a "wildlife-rich gem".
Brislington Brook runs through Whitchurch, Stockwood and St Anne's and is home to otters and kingfishers.
Discover Brislington co-ordinator Rowan Matthiessen said despite its beauty, many people in the city were unaware of its existence.
The money will be used over three years to expand the group's work so more people can be made aware of the brook.
Ms Matthiessen said: "We will work closely with the local community to hold clean-ups, taking out Himalayan Balsam which is an invasive weed, through to organising a pageant to recreate the pilgrimage to St Anne's Holy Well.
"We will work with a local theatre company to write and perform, and write material for St Anne's Day."
St Anne's Holy Well, situated by the brook, was a pilgrimage site for people in medieval times and was named after St Anne, the maternal grandmother of Jesus.
The Brislington Community Partnership received £32,100 from the Heritage Lottery Fund, matched by a further £20,919 from Bristol City Council.