£5m Lockleaze redevelopment plans on show to public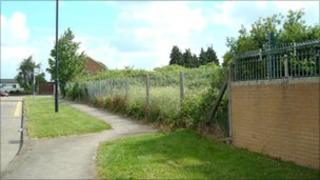 Plans to redevelop a rundown housing estate in north Bristol are on show.
The £5m project at Gainsborough Square, Lockleaze, which has been empty for almost 20 years, includes new homes and jobs.
Bristol Community Housing Foundation and Lockleaze Neighbourhood Trust have drawn up the scheme, which is backed by Bristol City Council.
It is hoped this first stage will boost the "vibrancy and attractiveness" of the neighbourhood.
'Empty and overgrown'
"This site has lain empty and overgrown for many years and has helped drag down the image of the neighbourhood," said Liberal Democrat councillor Anthony Negus, cabinet member for housing, property services and regeneration.
"Bristol City Council is investing a substantial amount of money in a scheme which will significantly improve an area of Gainsborough Square, creating much-needed community facilities.
"It is the first stage of an ambitious plan, set out in the Lockleaze Vision, that is designed to attract further investment into the community and create more jobs."
Bristol City Council and the Bristol Community Housing Foundation are financing the project, and the foundation has also applied for funding from the Homes and Communities Agency.
The new project plans to bring new homes, new business start-up units and a neighbourhood centre to the area.
'Positive future'
"This project is what the people of Lockleaze have wanted for years, the real chance of turning wasteland into something that ensures a positive future for Lockleaze and local residents," said Richard Reddrop, chair of Lockleaze Neighbourhood Trust.
"We encourage everyone to come and support it and help us make it the best it can be."
Lockleaze residents are being given the chance to take a look at the plans at a series of open events.
The plans will also be on show at Eastville Library, Muller Road and Horfield and Lockleaze Library, Filton Avenue, from the end of September for four weeks.