Contract to redevelop Bristol hospitals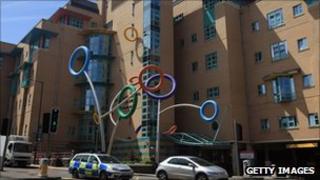 A contract has been signed to redevelop and extend two hospitals in Bristol.
The plans will see £110m spent on redeveloping Bristol Royal Infirmary and extending the Bristol Royal Hospital for Children.
University Hospitals Bristol NHS Foundation Trust said the work would improve the hospital environment for patients and staff.
The project includes a new ward block on the Bristol Royal Infirmary's (BRI) Terrell Street site.
It will also mean an end to the use of the Old Building which dates back to 1735.
An extension to the Children's Hospital will link to the new ward block for the BRI.
The University Hospitals Bristol NHS Foundation Trust secured a £70m loan from the government in March.
A trust spokeswoman said the additional £40m comes from money accumulated from surpluses over the last few years, funds from the sale of buildings that are no longer needed and pledges from the trust's charitable partners.