Bristol Zoo gorilla statues raise £427,000 for charity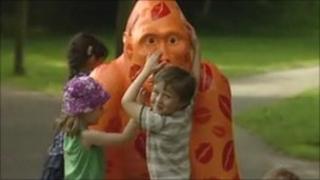 Sixty life-sized gorilla statues have raised £427,000 at a charity auction after being on display around Bristol throughout the summer.
Each Wow! Gorilla sculpture was painted by a local artist as part of Bristol Zoo's 175th birthday celebrations.
Gorisambard - a gorilla modelled on Isambard Kingdom Brunel - was the highest selling statue, going for £23,000.
Auctioneer Andrew Morgan said the gorillas were a "spectacular success".
Wow! Gorilla was a public art trail which saw 60 gorilla sculptures spending 10 weeks at many of the city's landmarks, such as Clifton Suspension Bridge, Ashton Gate Stadium and Bristol Bus Station.
More than 500 people attended the auction including Olympic swimmer Sharron Davies who bought Distinctly Different for £7,500.
"She's beautiful. It's going to an amazing cause and she's a work of art so she'll sit in my house.
"We were told over £1,000 will probably get you one, £1,500 will certainly get you one and I ended up spending £7,500, so my kids are looking at me as if I'm mad."
Nick Baker, who successfully bid for Gorisambard, which had been located near Clifton Suspension Bridge, said: "We were very pleased to raise a bit of money for charity.
"I was quite focused on getting that and my wife had been to the bridge several times to look at it so I was under a bit of domestic pressure to make sure it came home."
Mr Baker said part of their garden had been earmarked for their new gorilla although he would be happy to return it to the bridge next summer.
Charlie Langhorne, director of Wild in Art, said: "It's been a great city to work in and we've just loved it.
"We have been surprised by people's passion for gorillas. It has been really, really popular, but that doesn't take away from the extraordinary art that has been generated."
Money raised from the auction will go to the zoo's gorilla conservation projects and Wallace and Gromit's Grand Appeal at the Bristol Royal Hospital for Children.
Director of Bristol Zoo Dr Bryan Carroll said: "We never could have predicted how successful Wow! Gorillas has been and the total raised at the auction has further demonstrated that. We are absolutely delighted and thankful for everyone's generosity."
The 101 small gorillas which have also appeared around the city will be returned to the schools and nurseries which sponsored and decorated them.