April Stokes Croft disorder cost police £660k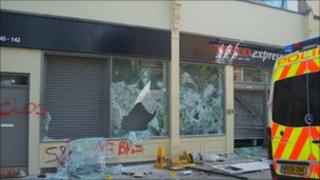 Dealing with disturbances in Bristol in April in a row over a new Tesco store cost Avon and Somerset Police at least £666,000, the BBC has learned.
Demonstrators were embroiled in running battles with police in the Stokes Croft area on 21, 22 and 29 April.
Responding to a Freedom of Information request, the force said it incurred costs of £464,095.
Other forces that were drafted in to assist have so far submitted invoices totalling £202,000.
A disturbance began in Stokes Croft over the Easter weekend after officers raided a squat because they feared a nearby Tesco was to be petrol bombed.
Bins and skips were set alight and a newly-opened Tesco Express store was attacked and damaged.
Another protest that started peacefully but turned violent took place in Stokes Croft in the early hours of 29 April.
John Long, Assistant Chief Constable of Avon and Somerset Police, said the force was used to dealing with emergencies which "call for the unexpected" and provisions were made to fund that sort of policing.
"To put it into context, the cost of the policing of the disorders at Stokes Croft comes to just over 1% of the entire budget for Bristol for a whole year's policing," he added.
'Unexpected costs'
The figures reveal that Gloucestershire Police invoiced the force for £28,797, Wiltshire Police for £30,597, Gwent Police for £28,869, West Mercia Police for £24,254, and West Midlands Police for £35,036.
The Devon and Cornwall, Dorset, Hampshire, Thames Valley and Dyfed Powys forces have also claimed.
Invoices have not yet been received from Dorset and South Wales police.
Kerry McCarthy, the Labour MP for Bristol East, said: "It's a shame at a time when police budgets are under such pressure that these unexpected costs had to be incurred."
Kevin Phillips, chairman of the Avon and Somerset Police Federation, said: "Any major incident always comes at a cost.
"Unfortunately, at the end of the day it's the law-abiding citizens that have to pay for it."