Five people rescued from Weston-super-Mare mud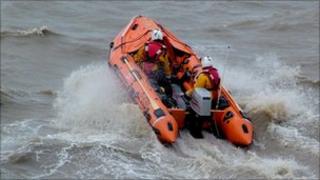 Five people were rescued from mud in Weston-super-Mare during one of the lowest tides of the year.
The RNLI said many people had ignored numerous warning signs and walked on to the mud, which went far out to sea, on Saturday.
At one point, about 73 people were in danger, he said. Swansea Coastguard called the RNLI to help search.
Pete Holder, from the RNLI, said: "We were lucky that all those who put themselves into danger were rescued."
"However the resources of the RNLI, the coastguard and the fire service were all needed to help when none of it should have been necessary," he added.
He said the RNLI had rescued two people from the mud.
The crew then called Avon Fire and Rescue Service, which launched its hovercraft to save two teenage girls and a 10-year-old boy in the evening.
Temperatures reached about 27C (80F) in the area on Saturday.