Whitchurch residents protect land with town green status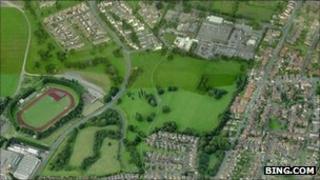 An area of open land in south Bristol has been granted town green status despite the landowners - the city council - objecting.
The 27 acres of land in Whitchurch was granted the status four years after residents submitted the application.
The land owned by Bristol City Council must now remain open space and cannot be developed.
Hugh Rowley, a local resident said: "It means everything to the community. It is the hub of the area where we live."
He said: "I did a land survey and over 600 different people were using the land and they will be absolutely overjoyed when they hear the news."
The council had argued that the land was already used as parkland and there was no need to implement the town green status.
Football stadium
Councillor Peter Abraham who sits on the committee which granted the status said: "They [the city council] felt they had to protect their interest and I can understand that because it could have been worth a great deal of money.
"This was the awful decision we had to face - on the one hand housing and jobs, on the other hand open space.
"We've come down on the side of open space and I think in this instance we are right."
There are currently 10 applications in Bristol awaiting decisions over town green status.
In Ashton Vale, campaigners are waiting to hear the result of a judicial review into whether land will be protected or whether Bristol City FC will be allowed to develop a new stadium on it, which the city council had originally approved.