Spoonbill seen at Portbury Wharf Nature Reserve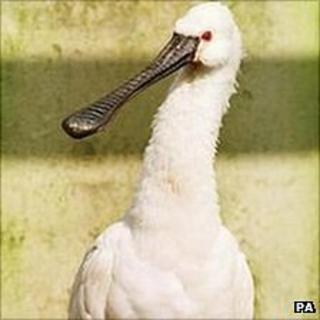 A seldom seen spoonbill has been spotted at the Portbury Wharf Nature Reserve near Bristol.
The sighting comes after volunteers spent days clearing vegetation at the site, hoping to attract more wildlife.
Reserve warden Bernie D'Arcy, from Avon Wildlife Trust, said it was believed the bird was a European spoonbill, which was spotted at the reserve for several hours on Tuesday.
She said the species hails from the Mediterranean.
"They're quite rare in birding terms - they're a common rarity, it's an expanding species," she said.
"There aren't many breeding records in the UK. If birders found out there was a spoonbill, they would rush out to see it."