Frenchay Hospital treats Libyan casualties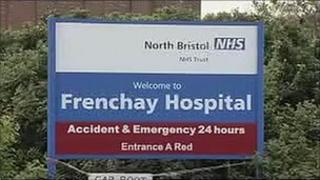 Two Libyan men injured in fighting in the current conflict are being treated at Bristol's Frenchay Hospital.
The hospital is among a small number to be approached by the Department of Health to offer care to 50 civilians, paid for by the Libyan Government.
One man has gunshot wounds to both legs, the other suffered severe blast injuries to both legs.
Both men, in their 20s, have been assessed by specialist clinicians and are both in a stable condition.
Medical director of North Bristol NHS Trust Dr Chris Burton said he expected the men would remain at Frenchay for several weeks "as they will require clinically complex treatment".
"As the major trauma and plastic surgery centre in the South West, we are pleased to work with the Department of Health to give our support," he added.
"To have been asked to help is a real testament to the expertise of our staff and the wide range of specialist services here at Frenchay Hospital.
"These admissions have been carefully planned in partnership with the Great Western Ambulance Trust, the Strategic Health Authority and Department of Health," he added.
Twenty-seven patients have arrived in the UK over the past few weeks.