North Somerset schools face £32m repair backlog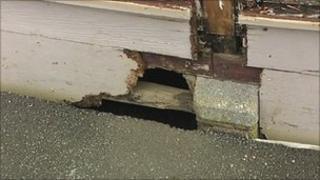 Schools in North Somerset are facing a £32m backlog in repairs, the local education authority has revealed.
North Somerset Council admits it can only allocate £2m to deal with outstanding maintenance issues.
The Department of Education has also reduced by nearly £1.5m the funding for repairs at the area's schools.
Councillor Jeremy Blatchford, local education boss, told BBC Inside Out West: "The resources aren't there and we are struggling."
The Department for Education cut its direct capital funding for schools in North Somerset from £2.1m in 2010/11 to £634,964 this year.
A spokesman said: "Given the financial climate the country finds itself in, budgets for school building maintenance were tight."
Leaking roofs
He added the money taken from the schools' own budgets had been reallocated to the local authority so it could be "targeted at needs and prioritised locally".
But the council insisted it was still not enough to deal with the backlog of repairs.
One school, Ashcombe Primary School in Weston-super-Mare, has ongoing problems with widespread damp and rot, leaking roofs, dated temporary buildings and even badgers digging soil from underneath buildings.
It has seen its government funding for repairs reduced from £44,834 in 2010/11 to £8,703 this year.
And North Somerset Council did not spend any of its money on repair work at the Earlham Grove site in 2010/11 because it was "deemed safe".
However, Pat Brown, the school's chair of governors, said: "The governors are very concerned about the state of the buildings and our ability to keep them as safe and secure."
A council spokeswoman said: "The council recognises a need for changes - funding permitting - as their buildings are coming to a stage where they need to be extensively remodelled or replaced in the future."
The story features on Inside Out West on BBC One in the west region at 19:30 BST on Monday.