Under threat Filton Airfield in £1.3m profit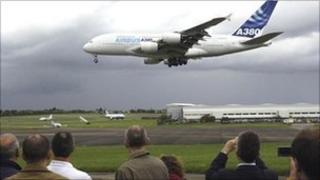 An airfield near Bristol that has been earmarked for closure because its owners claim it is not economically viable made a £1.3m profit in 2010.
BAE Systems plans to shut Filton Airfield at the end of 2012 and plans to sell the land for offices and homes.
But documents seen by the BBC show the airfield lost £710,000 in 2009 before making a profit the following year.
Campaigners said they felt "angry" at the news but BAE said the previous nine years it had run at a loss.
BAE Systems decided to close the airfield because it was losing money and had failed to attract aviation companies to the site, which operates under night and service flight restrictions.
It is believed 19 people will lose their jobs at the airfield when the site closes, with 60 contractors affected.
'Viable future'
Martin Farmer, from the Save Filton Airfield campaign group, said: "They're misleading local people.
"As a campaign group we're not surprised and we never have believed the spin that they're losing £3m a year."
He added that he believed the airfield had a "viable future" if another operator came in and took over operations.
A spokesperson for BAE Systems said: "As the owner and operator, BAE Systems has repeatedly said that the airfield has been loss-making over the last decade.
"This situation was forecast when its high level of fixed costs were highlighted during the public inquiry some 15 years ago, during the attempt to sustainably increase use of the airfield and make it viable into the long term by introducing limited scheduled commercial flights.
"However as history records, this plan was turned down at public inquiry and dismissed on appeal."