Orchard School pupils sign Halloween behaviour pledge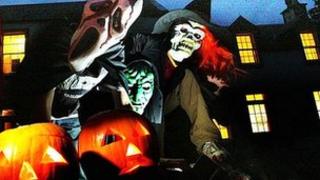 Every pupil at a Bristol school has signed a good behaviour pledge in the run-up to Halloween as they are "tired of being labelled troublemakers".
Orchard School, in Horfield, came up with the idea.
A poster stating whether trick or treaters are welcome has also been designed for people in the community.
Claire Robinson, a learning mentor at the school, said: "They want to do something positive to show that they're actually responsible."
She added: "It's really a student-led idea and project.
"I think a lot of students are actually sick and tired of Halloween being a problem in their area. And they're also tired of being labelled as troublemakers."
The students have pledged "to behave responsibly and encourage others to do the same" and promised to "clear up any mess left by those less responsible".
Police community support officer Kelly Parfiit, the school's liaison officer, said: "What may seem like a bit of fun can actually be quite frightening and it was really encouraging to see how well the students understood this."